Running is one of the world's most popular forms of exercises. With over 10 million Americans running and another 2 million in the UK doing it regularly, did you ever think why it's so popular?
For starters, running is a total body workout. It helps strengthen the muscles of your legs, back, core, and even arms. Not only does running work your muscles but it's also a great form of cardio exercise. Running can also be done anywhere. Whether you enjoy trail running, running on the treadmill or on your local track, running is a relatively inexpensive exercise option. But it's important to keep in mind that running can be a high-impact activity, which may not be helpful for individuals suffering from knee, hip, or back issues.
But if you're already an avid runner and are looking to up your running game, what can you do? Keep reading to find out some options.
Sign-Up for a Marathon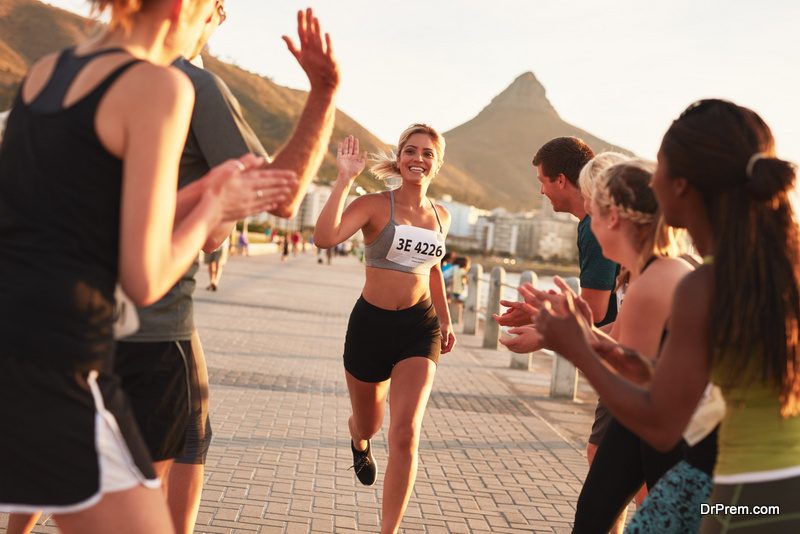 Maybe you've been running for months or even years, but never participated in any type of organized or timed event. Well, maybe the time is now! There are hundreds of marathons and races hosted across the country to choose from. A lot of events charge a minimal fee for registering, but you usually receive some type of "swag", whether it's a T-shirt, cup coozie or stickers. Another awesome benefit to these types of events is that they're often organized to raise money for a charity or organization. So, races are a great fundraising opportunity.
Do you hear the word "marathon" and instantly panic? Don't! There are a variety of races and marathons available that range from 3 miles (also known as a 5K) to half-marathons, which are 13 miles or a full marathon which is 26 miles. Start small and work yourself up. If you opt to stick with the 5K races, try beating your own personal best time. There are always different ways to set goals and push your limits within your comfort zone. There are also a long list of running apps available to help you slowly build up your stamina. You can also invest in a running coach.
Try a Mud Run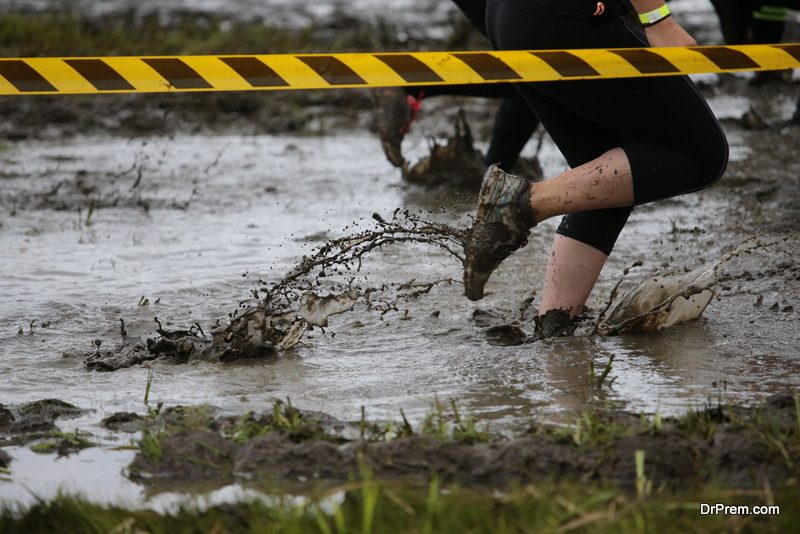 Mud runs and obstacle course races are growing in popularity. These are a fun alternative to a regular race and incorporate obstacles like mud into the running experience. They're also a great opportunity for teamwork and doing something fun and different with friends. Most races reward you with a T-shirt, medal, and an adult beverage after crossing the finish line.
Some of the most popular mud runs are the Tough Mudder and Spartan Races. There are half and full versions of the Tough Mudder ranging from 3 to 5 miles up to 10 miles. Proceeds from the registration fee go to the Wounded Warrior Project. The Spartan Race offers three types of races: The Spartan Sprint is 3 to 5 miles, the Spartan Race is between 8 and 10 miles and the Spartan Beast is usually between 13 and 15 miles. If you're feeling really adventurous, try the Spartan Ultra Beast, which will test you with 26 miles and 60 obstacles. Complete the sprint, race, and beast all in one calendar year and you will enter the Spartan Trifecta hall of fame!
If you're interested in something a little less intense, check out a color run, Mudderella, or Savage Race. As mud runs gain in popularity, the options are endless and you'll easily find one in your local area.
Non Race Options
If you're not looking to participate in a race, there are some easy adjustments you can make to your regular running routine that will help up your game.
Increase Your Speed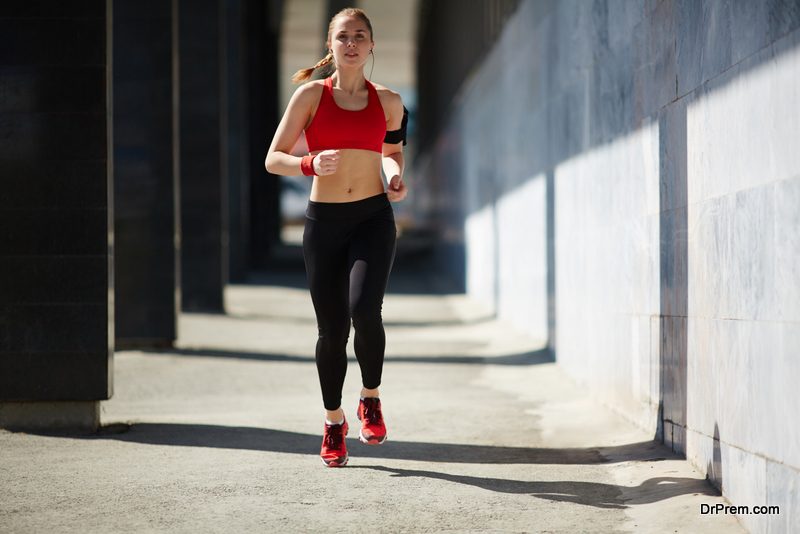 Whether you're road running or running on a treadmill, try picking up the pace. If you're running on a treadmill, this should be fairly easy. If you generally jog at a pace of 3 mph or lower, try increasing it slightly to 3.2 or 3.4 mph. It's important to increase your pace slowly to avoid injury or burn out.
If you're a roadrunner, you'll likely only be able to increase your speed based on your overall time. Most runners can tell if they are moving faster or slower than normal. Find a focal point ahead and see if you can reach it in as few as 10 or 15 seconds. These small mental games will help you push yourself and likely shave some time off your finish.
Track Distance not Time
If you're accustomed to running a certain distance each day, try timing yourself. If it generally takes you 30 minutes to run 3 miles, see if you can beat your time. Or simply focus on how long your run is versus how far you ran. But the key to any running routine is variety. Try switching things up and it will help keep your body and muscles guessing, leading to quicker results.
It's important to keep in mind that running on inclined surfaces is more difficult than running on flat and even terrain. This means you may not scale those hills near your home in the same amount of time it would take you to run the same distance on a newly paved, flat street. Take this into account when plotting your route and calculating your time.
Change Up Your Playlist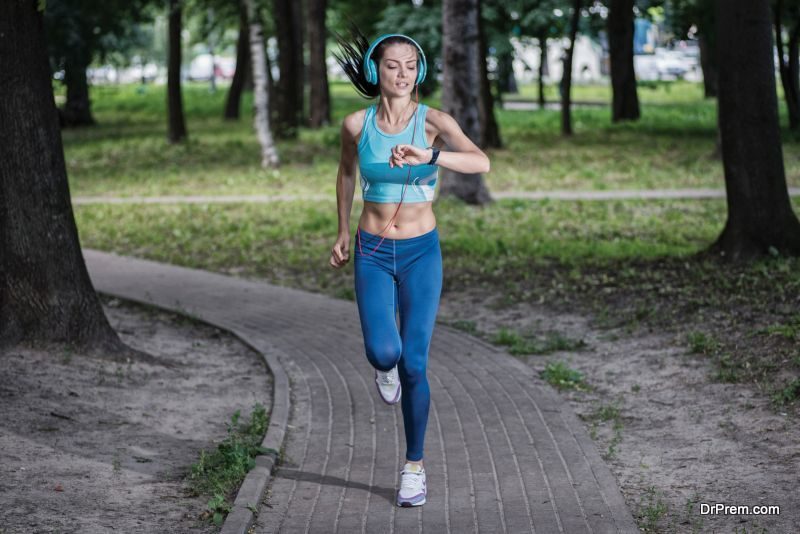 One of the best ways to motivate yourself when running is to listen to some of your favorite music. There are countless suggestions available for how to build the perfect running playlist and what songs should be on it. You know yourself best. What motivates you? If it's dance music or rock, choose those songs. Or maybe R&B or heavy metal is more your style.
Another tip is to try not to listen to your running playlist when you aren't running. By using your songs only for your workout, they are associated with pushing hard and getting pumped up. It also keeps them fresh and new in your mind, which can help when you reach a slump in your workout. You can even time your songs according to your running route. If you know there's a huge hill about halfway through your course, place a super motivating or heart-pumping song halfway through your playlist. The same goes for the beginning and end of your run. Use songs that you know will provide the mental push you need to finish.
Keep it Challenging
Whether you're looking to meet certain personal goals or achieve things you never thought you could, there are a variety of ways to up your running game and improve. Entering races are not only fun, but often support a good cause. It's always nice to receive a shirt memorializing the accomplishment also, or even a medal!
Little things like changing your playlist, beating your time, or adding an extra mile to your run are all great ways to avoid hitting a plateau and keep running interesting and fun! 
Article Submitted By Community Writer