Imagine yourself in your favourite fashion, sport or shoe store. You are staring at the many rows of fashionable shoes available and deciding which ones to buy. What are the factors that impact your decision?
Most shoe choices are made based on two common factors, how they look and what they cost. Comfort has some influence on the decision, especially for people already experiencing discomfort and pain, but foot support rarely gets a look in.
Our feet take a lot of strain each day. Literally carrying us from A to B and helping us reach our activity goals, be that 10,000 steps a day, a jog in the park, or even a job that requires you to stay on your feet all day. At Foot Solutions, we think it is fair to say that your feet deserve support in return.
Foot support, also known as orthotics, can be the difference between a pain free, active, lifestyle and daily pain that prevents us from fully enjoying our lives. Pain can be restrictive but foot support can give you freedom. 
What Is Foot Support?
Orthopaedic foot support solutions include customised insoles and inserts that have been created to fit the exact specifications of your feet. Foot supports are commonly used to counteract fallen or even high arches and prevent the problems they cause. 
Signs That Your Feet Lack The Right Support
Feet that are unhappy and lacking the support they need can sometimes be misdiagnosed as knee, hip or back issues. This is often the case with foot rotation and foot arch issues. The problem with unsupported feet is that it can create an imbalance. In turn this causes us to shift weight to another part of the body. Hence causing pain in other areas. We have met customers who have lived for decades with unexplained pain who quickly regained their quality of life with customised orthotics.
Poor balance is another symptom of feet that crave more support from foot wear. As is pain in the ankle, knee or hip. If you find you are experiencing reoccurring pain or balance issues, it is definitely a good idea to get checked out with a free foot assessment. 
Why Foot Support Matters
Left unchecked, long term issues can be caused by bad foot support. Your posture can be prematurely affected, leading many people developing a stoop. Bad Posture often leads to neck pain and sometimes headaches.
Stiffness is another common complaint. That feeling of needing to get up slower from a seat or not being able to walk as fast or as far as you used to be able to. Does that sound familiar? This stiffness can be a sign that you need to have your feet checked.
From speaking to our customers in Foot Solutions stores nationwide we have found that they often reduce activity before seeking a solution. Some have even convinced themselves that it's 'just old age'. This is rarely the case. Reducing your activity can have knock on effects for your overall health too. Being forced (or at least feeling like you are being forced) to give up your favourite activity – be it dancing, walking, soccer, or running – or even having to work less because of pain, can lead to low moods and isolation.
A more active lifestyle in general is good for heart, head and joints. Giving that up for a more sedentary lifestyle can leave us feeling unwell and dissatisfied with our quality of life.
How Custom Orthotics Can Help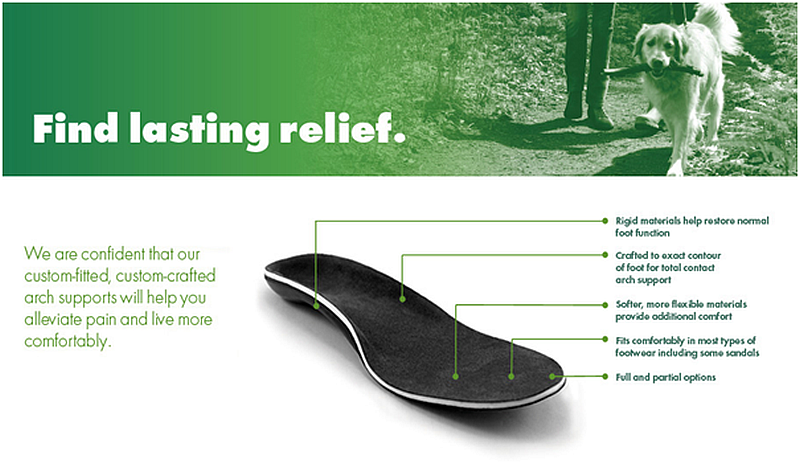 Not only is every foot different but we all lead different lives, have very different needs and have different activity levels. So why should our footwear be the same?
Foot Solutions customised orthotics are created solely (excuse the pun) for you. We use a nine step assessment to work out just what is causing you pain or discomfort. Our experienced pedortists are able to map and measure your feet like no one else. Based on our findings we then create bespoke orthotics to help you live a life that is comfortable and pain free.
Who Can Benefit From Custom Orthotics?
As well as anyone experiencing foot pain caused by arch issues, there is a wide range of people who really benefit from custom orthotics. These custom made foot solutions can benefit anyone with diabetic foot problems, congenital abnormalities or geriatric conditions.
There is almost no end to the foot problems that can be helped with customised orthotics. If you are suffering from bunions, hammertoes or calluses, call your nearest Foot Solutions store for more information about how we can help.
Keep reading to find out how Trina Horgan found relief from Plantar Fasciitis. 
Benefits Of Customised Orthotics For Athletes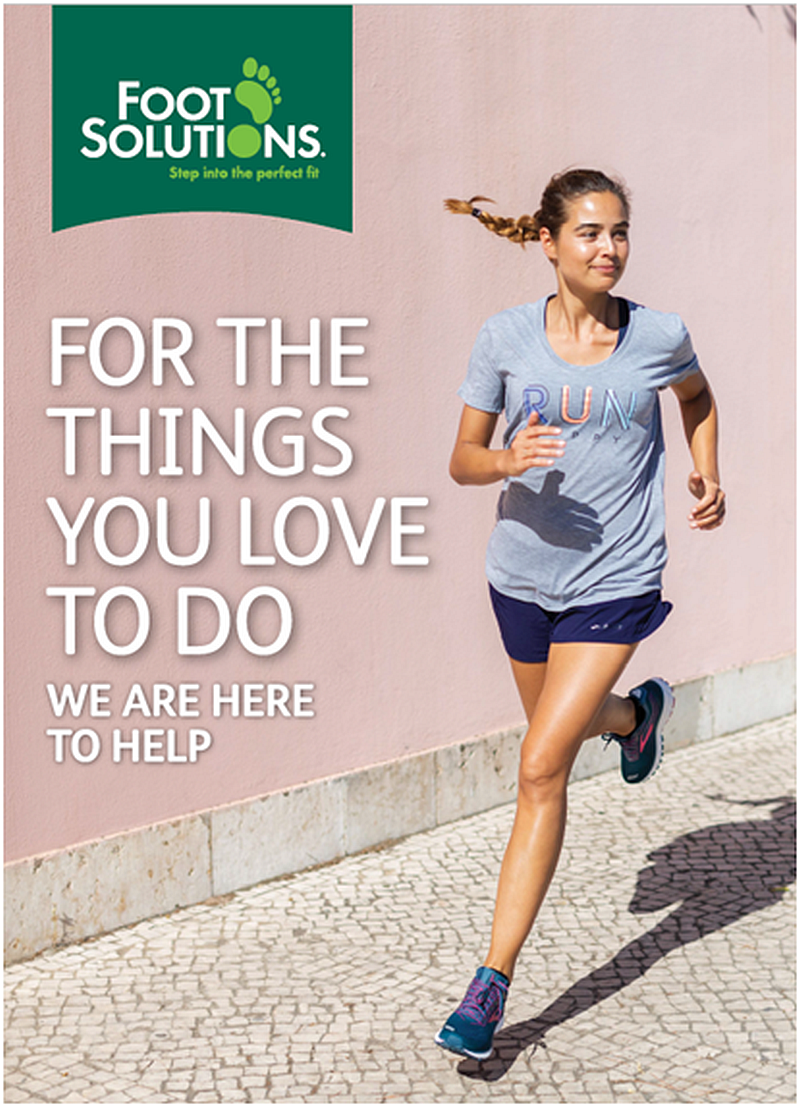 Runners and athletes often find that arch issues prevent them from reaching their fitness goals. Strenuous training and a need for  fast recovery can also intensify foot issues that can be solved with customised orthotics.
Our sporty customers have found that, following their foot assessments and orthotics fittings, they have increased endurance and stamina, less fatigue and a reduced athletic recovery time.
Orthopaedic customisation can also prevent overuse injuries by giving you the full support hat you need. 
How Do You Know If You Need Orthotics?
Unexplained foot pain or loss of balance are the most common signs that you could benefit from orthotics.
Having feet that feel swollen and hot is something that is often dismissed as being caused by a long day of work but can actually be your feet crying out for help too. Look out also for a change in posture or even losing your balance for an unknown reason. 
The Difference That Customises Orthotics Make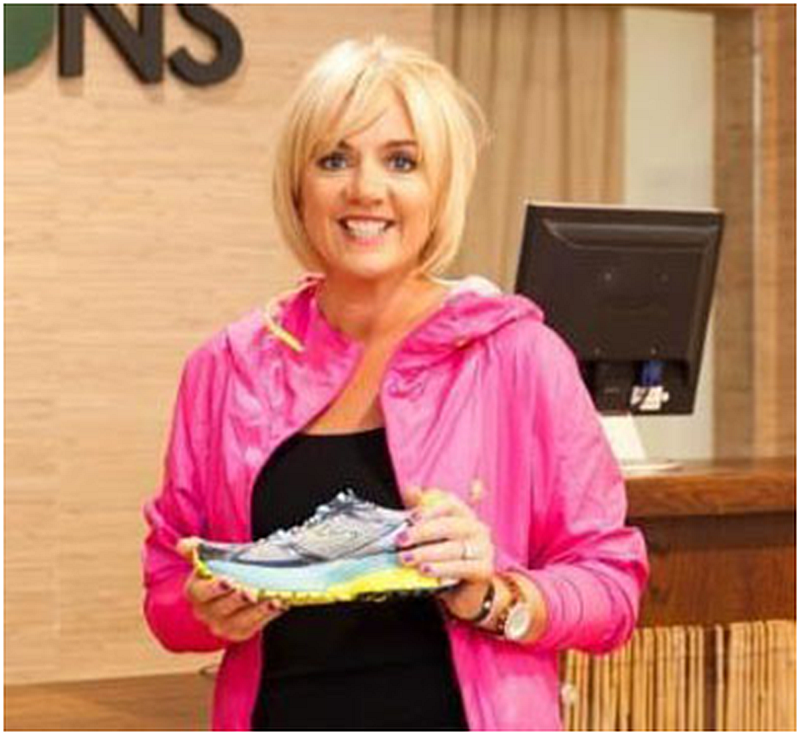 Customisation is something that we at Foot Solutions advocate for. Trina Horgan experienced foot problems for ten years, suffering from both Heel Spurs and Plantar Fasciitis. This had a serious impact on her active lifestyle.
'I bought over-the-counter orthotics five years ago in Foot Solutions. That was around the same time I had surgery on my feet, and they worked well in alleviating the pain. But after a while I noticed that the pain was coming back. I'd be on crutches in the morning. I love going for a walk, but it got to the point that I'd have to ring my husband to come and collect me because my feet were too sore to make it home. I also had to stop going to the gym as I couldn't run on the treadmill.
'It also interfered with my holidays. We have a mobile home in Kerry, where myself and my husband enjoy a regular morning walk in the roads around the mountains. I felt I couldn't do it any longer because I was worried I wouldn't be able to make it back! So I went back in to Foot Solutions and told the women inside about my problem. They fitted me for custom orthotics and I also got a lovely pair of runners.
'The difference was unbelievable! It took about two days to get used to the supports, but after that I was flying it. We were able to go on our walks around Kerry. I can walk into work in Cork city every morning and spend all day on my feet without any problems.  When we go for a walk now my friend says she can barely keep up with me! The women in Foot Solutions even helped fit the orthotics for my Converse runners, so now I can wear those again as well.
'The visit to Foot Solutions has made a huge difference to my life. I can't recommend them highly enough to anyone suffering from foot pain.' 
Feel your very best this season and fully enjoy the active weekends you have been dreaming of. Let our helpful Foot Solutions  pedortists help you find a solution to your foot discomfort or pain. Book your free appointment today.
Article Submitted By Community Writer