If you are a patient of chronic pain or someone in your family or an acquaintance is suffering from chronic pain, you would be familiar what kind of a toll it takes on the body. There is hindrance in all kinds of daily activities including sleep. The good news is that there is a wearable gadget around to counter chronic pain.
What type of a gadget is that?
It is called Quell, this wearable gadget helps you get relief from pain without the use of any drugs. This drug free solution is FDA cleared and has passed a number of clinical tests. The gadget is light weight and slim, this makes it portable and easy to wear. Strap it on, press a button and get relief.
The design and the concept
The concept of this device has been inspired by technology used in doctor's offices from decades. The technology used by the doctors is known as TENS or Transcutaneous electrical nerve stimulation. The gadget uses a technology called Wearable Intensive Nerve Stimulation (WINS) technology. Medical technology company Neuromatrix developed Quell and for the design part they chose Ideo. Ideo is one of the world's leading design companies.
Working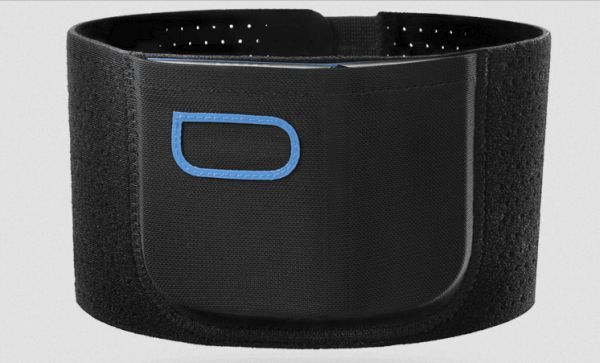 You probably must be curious by now, how the gadget works. The device includes a wearable sports band to hold the slim and compact machine, there is an electrode attached at the back of the device. The electrode should remain in contact with your skin, the band is worn on the upper calf, below the knee.
The device stimulates the nerves in the upper calf area, as these nerves carry neural impulses to the brain. The pain signals are blocked in the body because of the release of the Endogenous opioids. Before you use the gadget for the first time you need to calibrate it as per your sensitivity. Thereafter, the gadget will self-adjust using a technology called OptiTherapy.
Impact
More than any other disease, Americans suffer from chronic pain and there are 100 million of them! The chronic pain not only inhibits the daily routine, it also has negative impact on your mood and sleep. Albeit, Neuomatrix does not claim that the patient's medication will be minimized by the use of the gadget. The users of the Quell system have reported a drastic reduction in the intake of pain relievers.
Neuropathy, fibromyalgia, sciatica, and arthritis are some of the chronic pain causing diseases that these patients were suffering from. You can also track the pattern of your sleep with an accompanying App for quell.
The creators of Quell, wanted to develop a wearable product that actually worked on a disease, rather than just supplying information to the user. There are a number of wearable gadgets around but most of them just inform the user about his health. This is why the gadget received a tremendous response on its Indiegogo campaign.