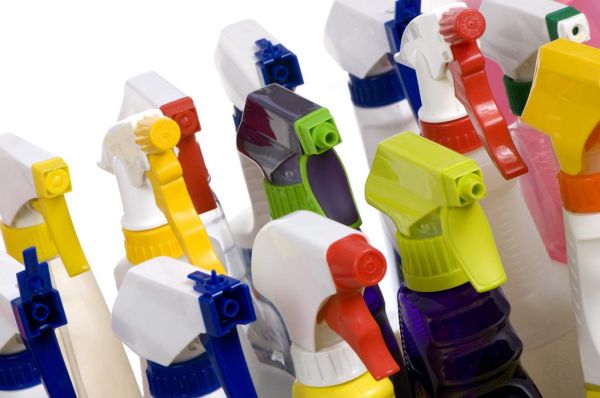 'Go Green' is the call for the day so as to protect ourselves and our environment from the evil clutches of uncontrolled usage of the basic elements of nature in their worst forms. Little contributions from our side in our day to day living can prevent us from facing enormous dangers in future. Household cleaning products are no different from our today's discussion. Experts reveal that we come in contact with as much as 62 different toxic chemicals almost everyday in our effort to keep our household clean and germ free.Though the manufacturers of these products claim that little usage of toxins cannot cause alarming disasters, however research reports a different story altogether. Regular exposure to these harmful chemicals can cause chronic diseases like asthma, cancer, reproductive disorders, hormone disruption and even neurotoxicity.
Let us consider some of such toxic products and their alternatives.
1. Phthalates
Why to avoid
Present mainly in air fresheners, dish soaps and toilet paper, the toxins present in this chemical are addressed as endocrine disruptors. As the name suggests, it not only causes Endocrinol disorders, but also reduces sperm count in men and is a source of causing asthma and migraine to people who consistently inhale it or come in physical contact with it.
Healthier choices
All health conscious people should substitute the use of this chemical with fragrance free or all natural organic products. Even opening windows for letting in fresh air can be a good natural source of freshening the air around. Natural resources can also be opted for detoxifying the air around by planting more trees.
2. Perchloroethylene or 'PERC'
Why to avoid
This chemical solvent is present in dry cleaning solutions, spot removers and carpet as well as upholstery cleaning solubles. It is said to contain neurotoxins which may even be carcinogenic. People living in a the same vicinity of a dry cleaning unit have complained of dizziness and loss of coordination as this chemical shows its evil effects on regular inhalation of the same.
Healthier choices
The clothes tagged with 'dry clean only' can, instead, be cleaned by following a 'wet cleaner therapy' which uses water in place of chemical solvents. Also, replacing chemical spot removers by non toxic ones, like Ecover, easily available in the market or rubbing undiluted castile soap straight away on the spots before washing can also be very effective and safe.
3. Triclosan
Why to avoid
Found mostly in detergents used for washing dishes, hand sanitizers and soaps which come with the tag 'anti-bacterial' pasted on it. This harmful toxic chemical promotes growth of drug resistant bacteria which in turn is believed to disrupt endocrine system causing hormonal malfunctioning and even cancer.
Healthier choices
The best way to prevent the repercussions of this toxic chemical is to avoid making use of anti bacterial products with triclosan present in them. Also, if at all hand sanitizers are opted for, then only the ones with alcohol present in them should be used.
4. Quarternary Ammonium Compounds or 'QUATS'
Why to avoid
Present mainly in liquids used as fabric softners and household cleaning compounds marked 'anti bacterial'. Again, an antimicrobial element which can cause severe skin irritations and respiratory disorders like asthma.
Healthier choices
Simple white vinegar instead of complex fabric softeners can be a very good alternative to this chemical as vinegar is non toxin in nature and absolutely eco friendly as well. In place of chemical disinfectants, tea tree oil can be opted for to make your cleaning sessions a healthier one. A few drops of tea tree oil mixed with a tablespoon of vinegar and a little lavender for fragrance can do wonders in creating a germ free and clean environment the natural way.
5. 2-Butoxyethanol
Why to avoid
Comes with multi purpose cleaning solutions for windows and kitchen shelves, this chemical compound can be termed as a sugar coated pill for the simple reason that it imparts a sweet smell after the cleaning has been done but on the contrary, causes soar throats, narcosis, pulmonary edema, severe damage to liver and kidney.
Healthier choices
Cleaning windows with newspaper and diluted vinegar and kitchen shelves and others with Bon Ami powder made of natural ingredient, viz. ground feldspar and baking soda, can be the bast alternative to get rid of this disguised chemical. You can even do your own concoctions with baking soda, vinegar and essential oils.
6. Ammonia
Why to avoid
Mainly used for polishing bathroom fixtures, sinks or even jewellery, this chemical targets asthma patients and those having issues with breathing. It can cause acute bronchitis and asthma and if mixed with bleach, can convert into a poisonous gas.
Healthier choices
Vodka is the best substitute to ammonia as it imparts a sparkling shine to any metal. Even toothpaste can be opted for to clean silver articles.
7. Chlorine
Why to avoid
Used for cleaning toilet bowls, present in laundry whiteners and mildew removers, and even present in household tap water. This chemical can cause chronic respiratory problems and thyroid imbalance as well.
Healthier choices
Bon Ami or baking soda for scrubbing and vinegar or borax powder for the toilet bowl can be really fruitful. Also, using chlorine free oxygen bleach manufactured by 'Biokleen' can do the needful.
8. Sodium-hydroxide
Why to avoid
Primarily used for cleaning ovens and for opening clogged drains, this compound is corrosive in nature and can cause severe burns if brought to contact with eyes or skin, even leading to sore throat on inhalation of the same.
Healthier choices
Using baking soda for an odorless cleaning spree can be a good alternative. For clogged drains, a 'snake' tool can be used or a cup full mixture of baking soda and vinegar may be dumped into the drain and left for 30 minutes to get the desired results.
To sum up, we cannot do without cleaning our household products but we can definitely do it the greener and smarter way.