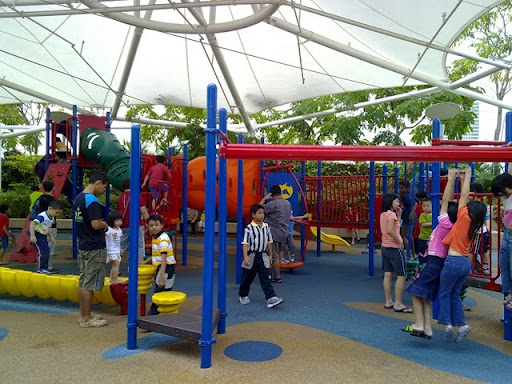 Come summer, the scorching sun compels everyone to remain indoors and simply relax in the cool comfort of homes. Kids are no exception and love to play sedentary games such as video games and watching their favorite cartoons. However, this deprives the child of a healthy growth and well being due to lack of proper exercises. Therefore, it is very important to balance their day and divide it equally between indulgence and exercise in order to ensure proper growth and well being. Outdoor games such as football, swimming and cycling can do wonders for the child's growth and development. Similarly indoor games such as table tennis, yoga and dancing can serve the purpose in an entertaining way to keep the child active in summer.
Cycling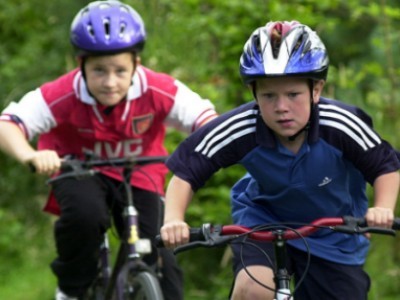 All kids love cycling. With an assortment of hi-tech bicycles, children love to zoom away with friends for long rides. Cycling is one of the best ways to maintain fitness for children. Early morning rides can be safe as the roads are clear and less congested. This makes it safe for the kids to go cycling for at least an hour or so, giving them enough exercise for the whole day. You need to ensure that the kids go cycling with all the safety gears in place to avoid any mishap. Furthermore, the kids should be warned not to indulge in any stunts such as hands free cycling or cycling without brakes.
Skating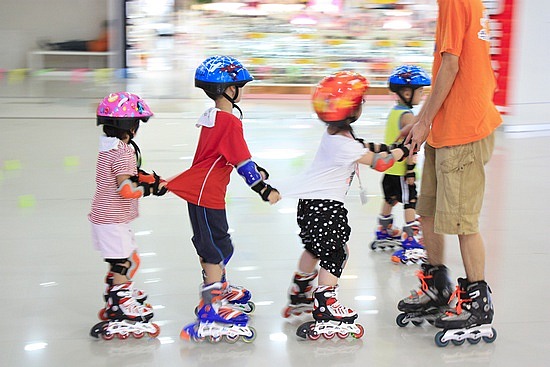 Roller skates are something every child loves to possess. Skating not only makes for healthy exercise, it gives the child a lot of thrill and excitement by simply trying to balance and zoom away on roads. Skating is great for the legs and makes the child learn how to properly balance his or her body. Kids should be taught by an expert and then allowed to venture out on their own to avoid any injury or fall. Skating classes usually are held everywhere and you can enroll your child in one of these. With different varieties of roller skates available, you can choose one for your kid that best suits his or her needs.
Dancing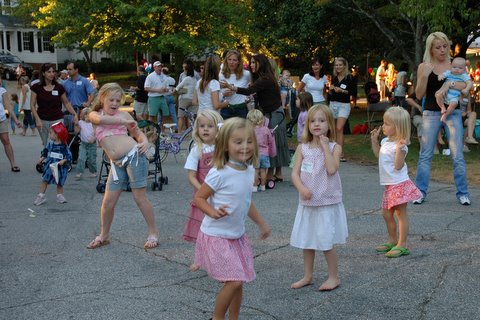 This is one of the most popular exercises for kids during summer. For one, it is entertaining since you get to listen to your favorite music and the other, the kids can enjoy the whole session in groups. There are so many styles of dancing that you can get your kids learn whichever form they wish. Aerobics make for great exercising. Other forms such as hip hop, ballet, salsa and contemporary are all interesting as well as good exercise. The kids can simply get together at one place and have a dance party to make the most of an entertaining form of exercise in summers. The kids may discover their potential and go on to even excel in dancing in future.
Swimming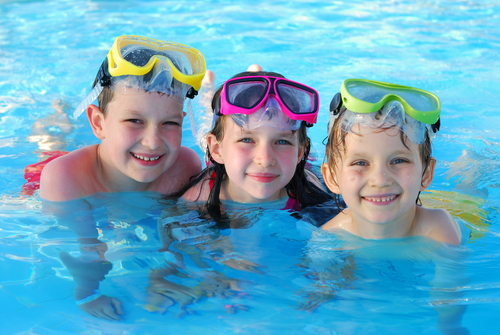 There is nothing like having a cool dip to beat the heat in summers. Swimming is the best form of exercise for kids in summer as it helps in maintaining the body temperature. You can enroll your kids in the summer camps in a nearby swimming center, where the kids will be properly guided and monitored to ensure their safety. Kids learn swimming very easily and once they learn the proper technique, they will wait to go for their swimming classes. This will ensure that the kids get enough exercise for the entire day and indulge in other activities for the rest of the day. Early mornings or evenings are the ideal time for swimming. If you live near the sea, then you need to ensure that the kids are sufficiently chaperoned, so that they do not venture far into the sea.
Skipping Rope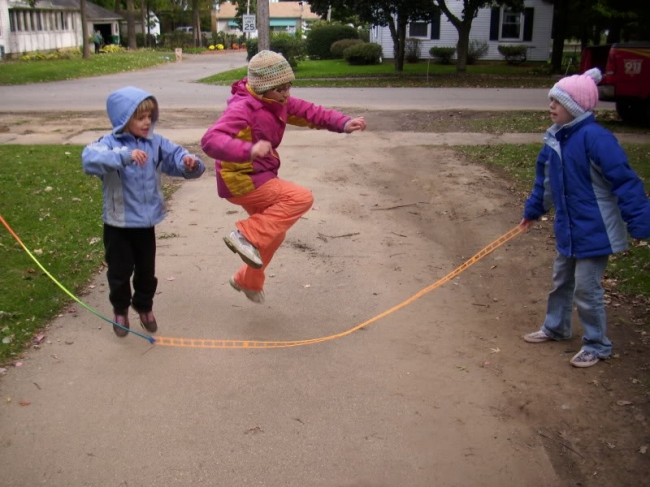 Skipping is an exercise that gives joy as well as sufficient work out. Kids, especially girls love skipping. It can be very enjoyable if kids play skipping in groups. They can compete with one another to see who skips the most without getting entangled in the rope. Skipping is absolutely safe and gives overall exercise to the entire body. It does not require space and can be done indoors or outdoors. There a number of different skipping ropes available such as some having their favorite cartoons as the handles. This makes the entire exercise interesting and joyful. Kids can keep skipping for hours at anytime and at any place.
Obstacle Course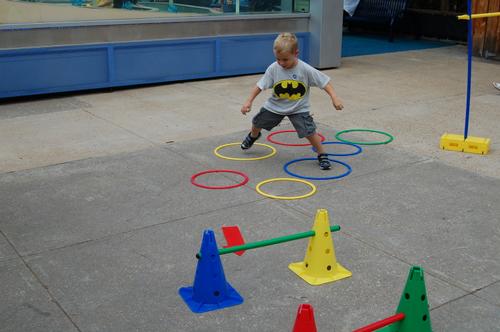 Kids can be kept interested by obstacle courses in the playground where their wits and physical fitness are both challenged with a considerable degree of interest. You can create hurdles and obstacles such as sand bags, a water pool through which they need to wade and then collect certain objects to finish the race. Team obstacle races are quite a hit with kids who love to come back for more. Not only is it a great way of exercising, it also create s a competitive spirit amongst them and kids learn to interact in groups. While creating obstacles, you need to keep in mind the age group and the fitness levels of the participating kids. These can be played in the mornings or late in the evenings when the weather is a little cool and less exhausting. You can alternatively set up obstacles in an indoor stadium where the kids can enjoy at any time of the day
Scouting activities are crucial for sure
Kids, through their formative years, definitely need to understand the importance of camaraderie and companionship, aside from developing the competitive spirit within them. And, what could be a better way than joining scouting activities, such as one offered by Boy Scouts of America? Apart from being a source of pride from American kids, these groups and activities carried out by them help kids develop social skills and enjoy while learning new things as well.
Basket Ball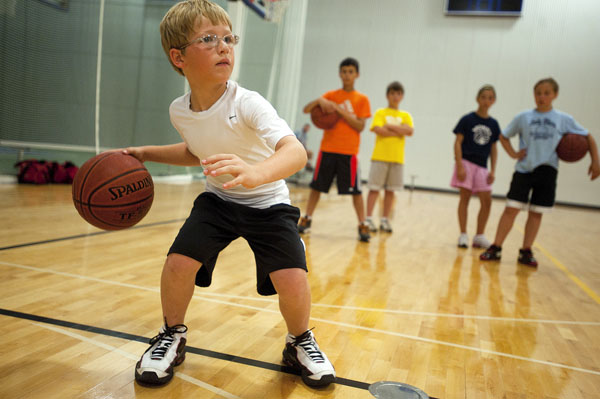 This is a favorite sport for all kids above the age of eight. Dribbling the ball and then putting it in the basket gives sufficient exercise to all the parts of the body. Basket ball also require passing the ball in various ways such as chest pass, long pass, bounce pass etc. All this makes the kids run automatically giving the much needed exercise. Basket ball can be played indoors too in specially built stadia thus preventing the kids from heat exhaustion in summer. Basket ball also is known to help the kids in growing since it involves a lot of stretching.
Soccer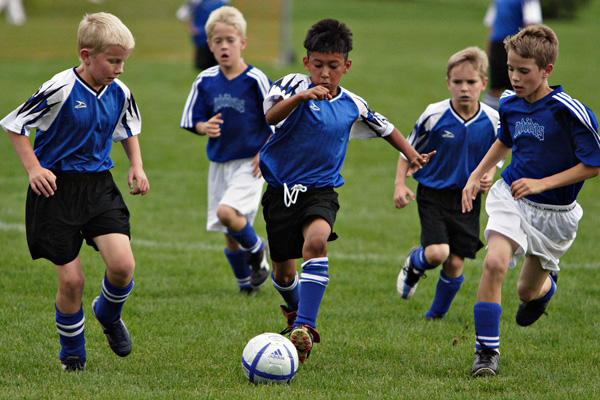 Soccer is purely an outdoor game that is good for boys. It builds up one's stamina and gives rigorous exercise. Soccer is a physically exhaustive game and the kids should be sufficiently re-hydrated from time to time. It is best to send the kids to play soccer early in the mornings before the sun rises in full glory. Soccer also builds up the team spirit and kids learn how to gel with other kids. Any child having a congenital heart problem should better avoid playing soccer for fear of over exhaustion.
Badminton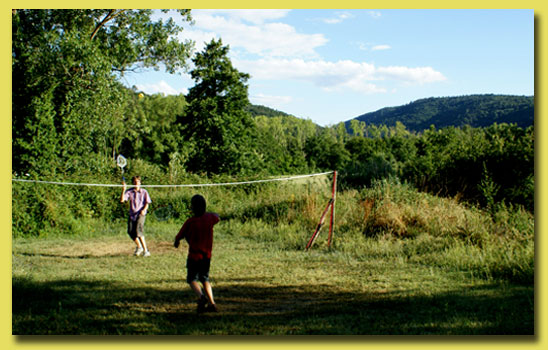 Badminton can be played indoors As well as outdoors. It is an ideal game for kids in summer as it is a perfect blend of light exercise with intelligent stroke play. You need to stretch every part of the body thereby getting maximum benefits. Badminton needs a little bit of training which is well provided by coaches who hold summer camps for interested kids. Enrolling the kids into one of these can bring out the best in the kids. Badminton too needs a little bit of stretching and warming up before the kids start the actual game. Kids should restrict their play for a maximum of three to four games to prevent over exhaustion.