The developers call this device Slate and claim it to be the World's first portable smart scale for nutrition. The App associated with the scale gives you nutritional information about thousands of food items, on the go.
The concept
There are hundreds of health related gadgets and Apps in the world today. Majority of them track your health via exercise and often the nutrition part is ignored. Research has shown, for weight loss what matters most is nutrition, followed by exercise. Exercise is just 20% element in a weight loss regime. The Slate scale is built around the importance of nutrition. You can carry it anywhere and monitor your nutrition.
The design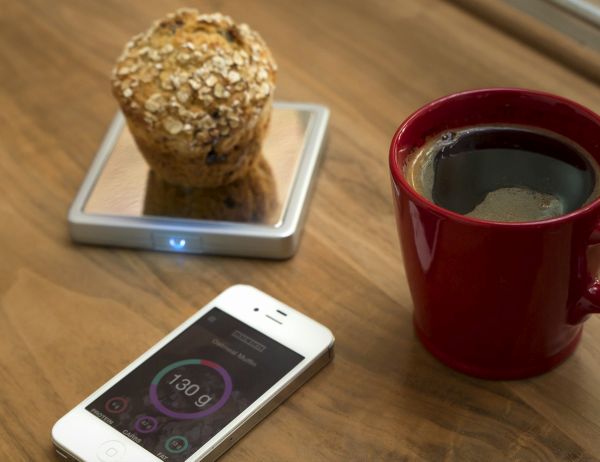 When we say the device is portable that obviously means it is compact and easy to carry around. The scale isa 5.5 inch square with a thickness of 0.6 inch. The surface is hygiene friendly and made of stainless steel. The base is plastic, so that the device remains lightweight. There is just a single button on the device, which turns it off and on; it is that simple. A rechargeable lithium-ion battery makes the scale work.
The working
The scale works in conjunction of a smart App, available without any cost for Android and iOS platforms. Place the scale on a table, place the food item to be analyzed on the scale. The Slate scale connects to the smart App via Bluetooth. You get the weight of the item on the App. Key in the name of the food item on the scale and all the nutritional information about the food item will be displayed.
The interesting part is, you charge the device for one or two hours and the battery lasts for a month (depending upon the usage).You can measure the foodstuff in oz, lbs, g and kg. The maximum weight that the scale handles is 2.2 lbs, that is when you are about to consume a King size meal.
Worried that placing greasy stuff or wet stuff will leave the scale messy? Well, it's a smart scale, you can keep an empty bowl on the scaleand adjust the weight of the bowl. So that, when you place the bowl along with the food on the scale, the app will automatically reduce the weight of the bowl.
Keeping a check on what you eat is the best way to gain a healthy lifestyle. With the nutritional information handy, you would know when to stop or what to avoid. Use the Slate scale before every meal or snack to scan the food you are about to consume.