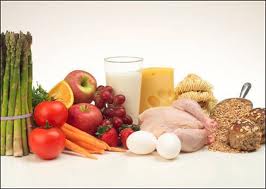 Iron has a fundamental role in our hemoglobin molecule and is long known for its red blood functions. Hemoglobin is a particular molecule that carries oxygen to the lungs tissues and return with carbon dioxide from these cells. It is also very closely related to myoglobin which is accountable for energy creation in the muscles. Even though iron is plentiful and easily obtainable from a variety of foods, deficiency of iron is still one of the most common forms of mineral deficiency. This deficiency is usually found in susceptible groups like the elderly women and also in teenage women. A survey shows that almost 50% of American's suffer from iron deficiency. Iron is mostly found in body tissues which are involved in blood creation and breakdown functions such as the bone marrow, spleen, the liver and of course blood. Women, depending on individual need generally require about 8 to 14 milligrams of iron per day. Generally there are two kinds of iron found in food, namely non-haem and haem iron. Haem is the iron which is generally found in animal hemoglobin or in other words animal products which we consume as food. This kind of iron is easily absorbed by the body. Whereas non-haem iron is usually found in plants and is not absorbed easily by the body. Thus, to fulfill the dietary requirement of iron especially in elderly women, here are a few easily digestible iron rich recipes.
Spinach and pine nuts caesar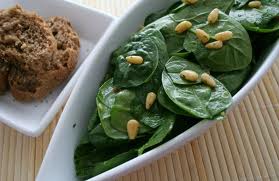 You will require 3 tbsp of light mayonnaise, 2 tbsp fresh lemon juice, 2 tsp each of mustard and anchovy paste, 2 cloves garlic (minced), 1/3 cup of freshly grated parmesan, ½ tsp each of pepper, salt and worcestershire sauce, 3 tbsp olive oil, 8 cups baby spinach, 4 slices bacon, optional (crisply cooked and crumbled) and ½ a cup of toasted pine nuts.
Whisk together the mayonnaise, anchovy paste, lemon juice, mustard, garlic, worcestershire sauce, salt, and pepper. Now gradually whisk in the oil and then stir in the cheese. Adjust the seasoning as per the taste. Now in a large bowl, toss the spinach with half the pine nuts and half the bacon. Drizzle the dressing to coat all the spinach and sprinkle with the remaining bacon and pine nuts before serving.
Fresh vegetable juice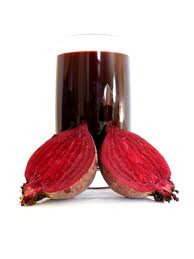 You will require a glass of water, 1 beet, 2 tomatoes and 2 carrots washed and finely chopped, 2-3 spinach leaves washed and finely chopped, fresh lime juice as per taste and salt and pepper for seasoning.
Now just put all the ingredients in a blender and blend till smooth. Adjust the seasoning and lime juice as per taste. Serve and consume immediately. This juice is ideal for an iron rich morning breakfast.
Hoisin lamb and snake bean fillet with chilli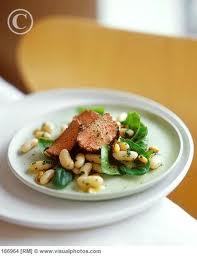 You will require 8 lamb fillets or tenderloins trimmed, 2 tbsp hoisin sauce, 1 tbsp sesame oil, a bunch of snake beans, cut and cooked into about 3 cm lengths, 100 g of roasted peanuts, ¼ cup fresh mint leaves, ¼ cup fresh coriander leaves, rind and juice of a large lime and 1 finely chopped red chilli.
First brush the lamb fillets with hoisin sauce and oil. Now preheat the pan or barbecue before adding on the steaks. Now cook the fillets on one side till signs of moisture appear and then turn only once. Cook the meat as per individual choice of redness. Rest the cooked fillets for a couple of minutes before serving. To serve, just slice the lamb diagonally. Now toss with the peanuts, snake beans, mint and coriander leaves, juice, lime rind and chilli.
San choy bow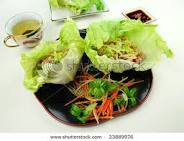 You will require 600 grams of meat of your choice, 2 tsp oil canola/olive/ sunflower, 1 medium diced carrot, 2 cloves of crushed garlic, 2 inches of grated ginger, 425 grams of canned baby corn, drained and sliced in thin rounds, 2 tbsp oyster sauce, 150ml water, 2 tsp corn flour, 150 grams bean sprouts, a handful of roughly chopped coriander and iceberg lettuce.
First place the mince in a large bowl and mix in 1 tsp of oil. In a hot wok add in the crumbled mince and stir, fry till the mince turns brown. Remove from wok. Reheat the wok and add in the remaining 1 tsp of oil. Now add the garlic, carrots and ginger. Stir-fry for about a minute and then add the corn, stir-fry for another 30 seconds. Now return the mince to the wok and toss for about a minute. In it, add the pre-combined oyster sauce, stock and corn flour. Stir to combine the mince and the sauce and cook well. Serve with a sprinkling of bean sprouts and coriander in chilled lettuce leaves.
Fish fillets with walnuts and roasted beetroots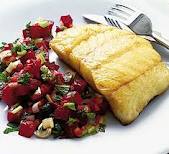 You will require 2 bunches of baby beetroots, ½ cup of extra virgin olive oil, 2 teaspoons horseradish cream or grated horseradish, a squeeze lemon juice, 1 bunch watercress/rocket washed and dried, 125g shelled walnuts, salt flakes, freshly ground black pepper, 4 x 180g fish fillets skin and bones removed.
First preheat the oven to 220° C. Now clean the stalks from the beetroots and scrub them clean under running water. Now brush them with a little olive oil and arrange on a baking tray. Bake till cooked for 45-60 minutes or until a knife easily penetrates into them. Now allow them to cool and then peel and slice in quarters. Now in a large bowl mix together the lemon juice, half the remaining olive oil and horseradish cream. Toss in the walnuts, watercress, beetroots, pepper and salt to combine properly. Now in a heavy base frying pan cook the fillets with salt, pepper and oil. Turn only once and cook on the other side as well. Arrange the fillets in a place with the beetroot salad and serve immediately.
Noodle stir-fry with green vegetable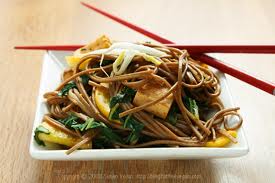 You will require a bunch baby broccoli cut into 4 cm lengths, 150g of baby brussels sprouts halved, 1 green capsicum chopped, wedges of 1 red onion, two celery sticks sliced, 1 bunch tuscan cabbage diced, 400 grams of hokkien noodles, ¼ cup oyster sauce, 2 tbsp soy sauce, 1 tbsp honey, 1 tbsp olive oil, and ¼ cup water.
Place the noodles in a large bowl and cover with hot or boiling water. Keep aside for 6 minutes and then drain well. Now mix together the soy sauce, oyster sauce and honey in a small bowl. Now heat oil in a large wok on high heat and add the baby brussels sprouts, baby broccoli, capsicum, celery and onion and stir-fry for about 4 minutes. Now add in the tuscan cabbage and water. Toss, cover and cook for a couple of minutes until cabbage just wilts. Now add in the noodles and the combined sauces and toss until heated through. Serve with nuts if desired.
Minted peas and rice with feta


You will require 1 1/4 cups of chicken broth, 3/4 cup instant brown rice, 1 1/2 cups frozen peas, 3/4 cup of sliced scallions, 1/4 cup crumbled feta, 1/4 cup fresh mint and pepper to taste.
First in a large pan boil the broth on high heat. Now add in the rice and bring to a simmer, cover and then reduce the heat to medium low. Cook for 4-5 minutes. Then add in the peas, simmer over high heat. Cover and reduce heat to medium low. Cook till peas are hot and the rice is cooked and absorbed most of the liquid for about 6 minutes. Now remove from heat and add in the mint, scallions, feta and pepper. Now just cover and let the rice stand till all the liquid is absorbed for about 3 to 5 minutes.
Asparagus salad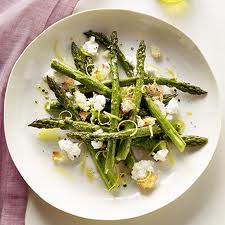 You will require 1/2 cup caesar salad dressing, salt and ground black pepper to taste, a bunch of fresh asparagus with ends trimmed, 2 tbsp olive oil, 2 hard boiled eggs peeled and chopped, zest of 1 lemon, 1/4 cup parmesan cheese shavings and 8 radishes cut into matchsticks.
First preheat oven to 400 degrees F. Sprinkle the asparagus with olive oil in a large bowl. Season with salt and pepper. Now grill the asparagus turning frequently until they get bright green and are slightly charred. Now transfer the asparagus on a platter and drizzle with caesar salad dressing. Sprinkle with eggs, cheese, lemon zest and radishes. Serve immediately.
Beetroot and fruit cocktail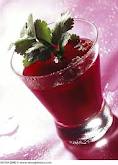 You will require a medium sized beet and 2 ripe pears washed and chopped, juice of a small lime, 1 ½ red bell pepper washed and chopped, 1 handful of basil leaves washed and chopped.
Add all the ingredients in a blender and blend until smooth. You can strain and serve the juice or have as it is. Consume the juice within an hour after preparation.
Turkey sandwich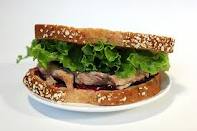 You will require 1 tbsp whole berry cranberry sauce, 2 slices multi-grain bread, 1 tbsp salad dressing of your choice, 4 slices thinly sliced and cooked Turkey breast and 2 leaf lettuce leaves.
Just spread the cranberry sauce on one bread slice and the dressing on the remaining other bread slice. Fill with the Turkey slices and lettuce leaves.
Citrus, spinach and beet salad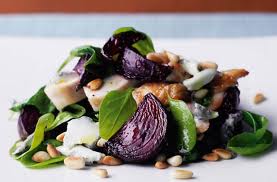 You will require 1 pack or 284 g of baby spinach leaves, 1 can of whole rosebud beets drained and quartered, 2 large navel oranges sectioned, 1 small red onion thinly sliced, 3/4 cup walnut pieces toasted (optional) and 1/2 cup raspberry vinaigrette dressing.
Now just toss all the ingredients except the dressing in a large bowl. Then drizzle the dressing and mix thoroughly. Serve immediately.